Many of us suffer from headaches now and then. However, when a migraine headache occurs, it's an entirely different ball game. Aside from the throbbing head pain, nausea, and vomiting, one of the biggest problems is that when a migraine sets in, it may feel as if you've gone head-on with a semi-truck. It can completely wreck your day and become debilitating. According to some migraine sufferers, "A migraine has a life of its own." The only problem is that it takes your life along for the ride.
Are All Migraines Alike
The textbook definition of a migraine is a severe, painful headache that can be preceded or accompanied by sensory warning signs such as flashes of light, blind spots, tingling in the arms and legs, nausea, vomiting, and increased sensitivity to light and sound.
In the U.S., more than 37 million people suffer from migraines, which is an estimated 13% of adults. They are more common in women than men and can last anywhere up to 72 hours. Unfortunately, some people suffer from chronic migraines, where the symptoms can last for more than 15 days a month.
One thing to note is that each sufferer will experience migraine differently. A migraine you experience will be entirely different from how your friends and relatives experience them.
People who suffer from migraines can often clearly identify specific triggers.
Migraine Triggers
Allergies: These can be seasonal or even allergic reactions.
Irregular Environments: This can include bright lights or loud noises. Party lights and even strong smells can trigger migraines.
Stress: This can be any type of stress. Examples include work-related, depression, tension, and even physical stress.
Sleep: Tiredness, jet lag, or irregular sleep can all lead to migraines.
Change of Diet: Some migraine sufferers claim that when they skip a meal, eat too much or too little of something (chocolate, nuts, bananas), it will trigger the start of a migraine. Specific foods that contain tyramine (smoked fish, figs, beans) or nitrates (salami and bacon) are also known to trigger the pain.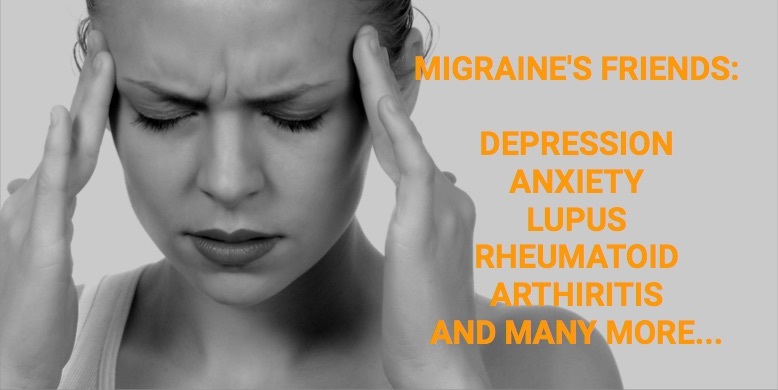 According to migraine.com, 65% of chronic migraine sufferers reported that depression was a comorbidity.
Migraine Treatments Cannabis and Conventional
Traditional medications developed to treat migraines include narcotics, anti-inflammatory drugs (aspirin or ibuprofen), triptans (Frova and Imitrex), and ergots.Strains for Migraines
Let's Explore Some Alternative Solutions
Data suggests that people have been using cannabis as a migraine treatment for years but is only now coming to light. A marijuana study published by Skaggs School of Pharmacy and Pharmaceutical Sciences at the University of Colorado recently revealed:
Out of 121 adult participants, 40% of subjects reported positive effects.
The average number of migraine headaches decreased from 10.4 per month to 4.6.
Do All Cannabis Strains Have a Positive Effect on our Brain?
The answer is no. Furthermore, it is best to consult with your medical marijuana physician before choosing the cannabis migraine treatment route. Some marijuana strains could even have the opposite effect. They may cause your heart to race, initiating allergic reactions, and causing symptoms that could lead to a migraine.Strains for Migraines
If you suffer from migraines and have access to medical marijuana, then it could be helpful. But with so many different cannabis strains out there, where is the best place to start? Thankfully, we've done the groundwork for you. Here are the five best marijuana strains for instant migraine relief:Strains for Migraines
OG Kush Marijuana Strain
This cannabis strain is quite common, and consumers will find it in nearly every dispensary. The reason why it's at the top of our list is that it has powerful sedative effects. This cannabis strain takes the edge off and also helps to combat symptoms associated with migraines. OG Kush is a hybrid cannabis strain that can contain up to 20% THC. This strain may help with pain, and also help take your mind off your migraine.RELATED ARTICLE.Strains for Migraines